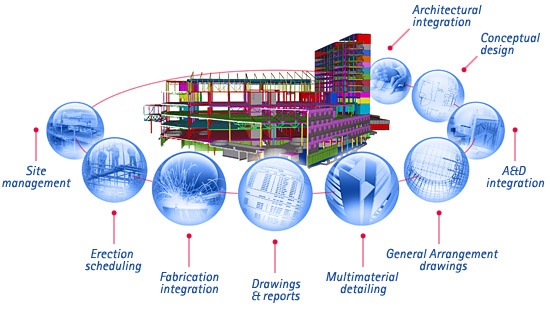 INTRODUCTION:
Conventional process of fabricating structural steel always raised serious issues such as oversight, miscalculations and design inconsistencies. This severely hampered the project cost and project deadlines. Especially, when there is no inter-dependency between structural engineer's design drawings and the steel detailers who produce erection drawings.

BOM is created manually and there is absolutely no correlation with the drawings. Data fed to the CNC machines is also manually programmed.
Let us review the advantages of hiring value add BIM services as compared to conventional process:
5D BIM
Interoperability
Visualization
Management
Hiring BIM Services:
A)
5D BIM
Building information modeling (BIM) has played an instrumental role in construction projects which has evolved drastically in the past few years. Especially, now that there is inter-dependency between structural engineer's data, structural detailers and CNC programs codes are no longer are manually programmed, there has been tremendous reduction in the rework and errors which is crucial to every project. This has effectively yielded in significant time savings (4D) and thereby reducing the cost (5D). Structural steel fabricators were quick to realize the benefits of BIM. Utilizing BIM design applications from various technology providers, the structural steel fabricators can do the following as mentioned below.
Create highly detailed and intelligent 3D models.
Generate erection drawings, assembly drawings, part drawings and detailed drawings.
Generate reports such as assembly list bill of materials, material list, bolts list and its assembly lists.
Generate NC codes to provide data to machines in the shop.
B)
Interoperability

There are multiple engineering design applications that are used in this process. This generated the need to exchange the data between EPC's, contractors and fabricators. The common data exchange process is by export-import of CIS/2 files. CIS/2 file is a neutral file format which can be utilized for exchange of design data, analysis data and manufacturing data. This provides a huge benefit to generate BOM which provides vital information to procure material.
C)
Visualization
The designers can generate various views from the 3D model which allows them to create different types of drawings even when the model is generated using different engineering design applications. Data can be verified across various disciplines.
D)
BIM Management
BIM process holds full responsibility of a building in its entire lifecycle beginning from conceptual design, detailed design, analysis, documentation, fabrication, construction, construction logistics, operations / maintenance and demolition. The data can integrated with ERP and other planning tools.
CONCLUSION:
At Bursys Engineering Services for BIM steel fabrication projects, we offer solutions/services that will value add to your existing work process and generate deliverable data for structural steel fabricators.
We specialize in utilizing Tekla Structures for BIM projects.
3D modeling and detailed design.
Shop drawings generation (erection, assembly, part and detailed drawings).
Reports (Assembly list BOM, Material lists, Bolt lists etc)
Generating DSTV (nc) files for shop manufacturing.