INTRODUCTION:
The costs, resources, and time required for handover are considerable for engineering, procurement and fabrication organizations, owner-operators, and for their respective contractors. The handover process is constantly done throughout the lifecycle of the project and it is met with numerous challenges in every phase.

The process adopted for handover, people involved in the handover, and the technology that will be utilized for handover has always been critical to the organizations as far as receiving and transferring data/documents is concerned. Every new project getting bigger and complex in nature than the previous one. In that case, process, people and technology have to pull up their sleeves and prepare themselves for the challenges and meet them to ensure success at their respective levels. Especially, nowadays due to the complex nature of the projects it is becoming increasingly important to manage data-documents and the analytics that are needed before/after in the handover process. Maybe this has led to an increase in the adoption of data and document management systems based systems by engineering contractors (EPCs) and owner-operators (O/O's). Alongside data and document management systems, big data analytics will also play a bigger role in the handover process. Let us review these in detail.
HANDOVER WORKFLOW BETWEEN EPC'S O/O AND CONTRACTORS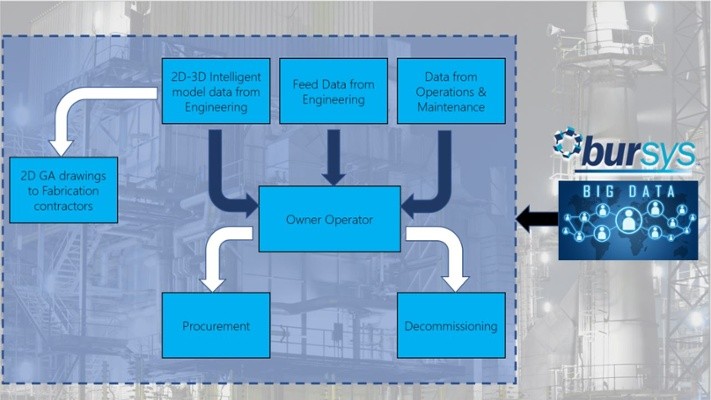 BIG DATA ANALYTICS
The key takeaway from big data analytic tools would be to harness data and use it so that new opportunities can be uncovered. Especially when cloud solutions are being adopted in the industry, it becoming increasingly important to realize the value of big data analytics. As mentioned before, handovers are costly. Here are a few benefits of using big data analytic tools.
Cost reduction
Cloud-based solutions can store large data and it can identify efficient ways to manage data/documents. SaaS models have significantly reduced the cost of operations.
Availability of information readily
Accessing data and its related analytics have increased the speed to make the decisions early as compared to the traditional handover process.
Development of tools
Any missing gaps can be immediately handled and tools can be developed to reach targeted goals.
Efficient operations
As a result of the cost reduction, the availability of information readily and the development of tools has led to efficient operations, higher profit margins, and happy customers.
DATA AND DOCUMENT MANAGEMENT TOOLS
Tracking data and documents throughout the lifecycle of project
Data and document management tools are instrumental in this role when it comes to handling revisions and change management while the data is concurrently added to the system from the design tools.
Providing data/documents in every phase of the project
In my previous article, 4 benefits of integrated engineering design signifies the value of providing data/documents in an integrated way.
Intellectual property protection
Data filtering is equally important when it comes to handover. Protecting IP data carries a different definition for EPC's, O/O's, and contractors. Authorizing data for handover is a very critical process Increasing technology and complex integrated systems can easily make data vulnerable for loss of IP. Data/document tools should be able to handle these requirements.
Data accuracy
Intelligent 2D-3D models and structured data (attributes) are of the essence because there are numerous technology providers and integrating the data to meet customer expectations is getting more important than ever. At this time, a data tool that integrates & authenticates multi-CAD format designs. For example, I can integrate all my data in ISO15926 format.
Conclusion
O/O expects data from feed contractors, engineering data, and documents in the handover process. The O/O will provide detailed design data to procurement contractors. The O/O will provide information to maintenance and modification and decommissioning information to the contractor.
EPC handover tools should include feed models/data, intelligent 3d models, engineering & schematics integrated to the data and document management tool to the O/O and its contractors.
Bursys Engineering Services meets these needs for handover considerations utilizing big data analytic tools and data/document management tools that will be of significant value to EPC's, O/O, and its contractors.