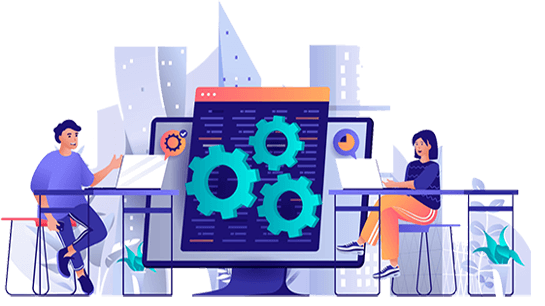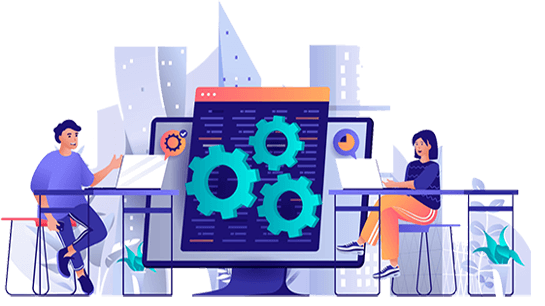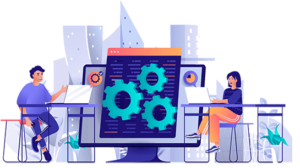 A growing number of businesses are investing in digital product engineering services for product designing and development using IT, embedded hardware, software, and other technologies. This process helps companies develop top-notch quality products to delight customers with tech-enabled advancements.
Software product engineering services can be leveraged to modernize a business, such as legacy system modernization. These services help companies become more agile and flexible to cater to the customers' evolving demands.
Software product engineering services help businesses:
Build robust products for the best customer experiences

Offer next-gen functionalities and modern features

Provide delightful user experiences

Easily scale to support growth

Reduce development costs

Decrease turnaround times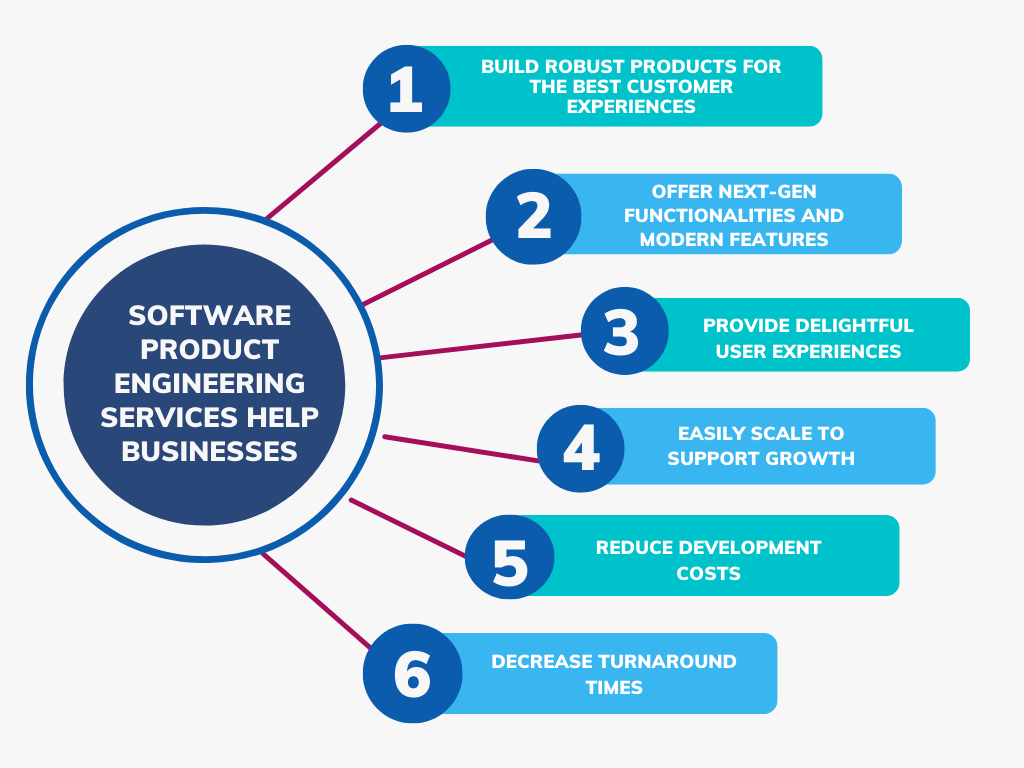 Product engineering is getting more and more traction for its growing application in diverse industries, not just software. 
According to a recent Gartner survey, there are many reasons for the growing adoption of product engineering services-
Over the recent years, the demand has grown for custom software development that promises differentiated digital experiences through intelligent connected products. Since 2020, various verticals have increased their investments, but the highest opportunities are seen in the telecom, healthcare, media, and technology sectors.
In recent times the word product has grown tremendously. Previously, product engineering was used to describe designing products that the client would sell. However, the term product is now highly used to encompass smartphone apps, digital platforms, web portals and clients' internal business systems. Today, the line between product engineering services and conventional application development outsourcing services has blurred.
Many leading tech consulting and outsourcing service providers have gained expertise in software engineering capabilities via acquisition. Such companies have started branding their offerings as 'software product engineering' or 'digital product development', which were previously known as application development and management.
This age of digitization and digital product engineering generates a high level of repeat business as digital products are not developed once and shipped in final form. They are worked upon and refined repeatedly to retain existing customers and attract new ones. The software product engineering engagements based on DevOps, agile, or product-centric principles go on for years.
Use Cases of Digital Product Engineering for Businesses
The adoption of product engineering services has grown across diverse industries over the years. Let's explore the key benefits of digitalization for businesses. The most common advantage of good product engineering services for businesses is – they can create a tailored, relevant, and quality product that sells and delights customers. Other benefits of digital product engineering are:
Better Customer Satisfaction
Businesses can strengthen customer relations by delivering tailored solutions to them. With digital product engineering services, businesses can build products based on real-time customer preferences and improve continuously. This ensures that clients are not disappointed and have no opportunity to complain. It helps businesses satisfy both functional and non-functional demands and stay competitive.
Improved ROI
When businesses have the right returns on their investment, they feel more confident and deliver better. Product engineering services help them optimize their investment and reduce developmental costs. Moreover, with means like automation, businesses also gain operational efficiency and increase productivity which is a key driver of great returns.
Achieve Competitive Advantage
When you develop products digitally, they help you make data-driven decisions and achieve customer insights. With sound business intelligence, companies can easily identify the market gaps and dig deeper into competitors and customer preferences to lead in the market. Digital product engineering services enable businesses to scale products to support growth or meet increased demand easily.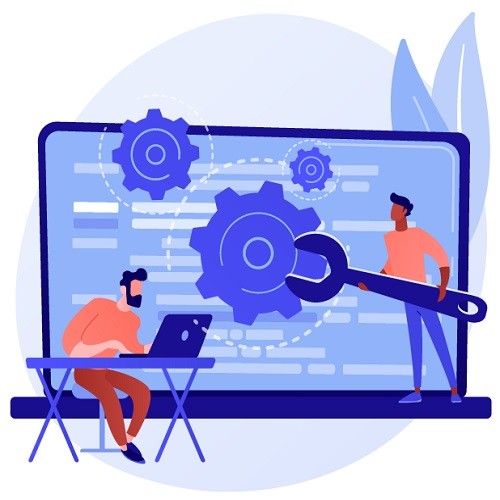 Why consider Product Modernization?
You must have got an idea about how digital product technology helps break out legacy products and software. Now, let's discuss the key benefits of choosing the right product engineering company for product modernization.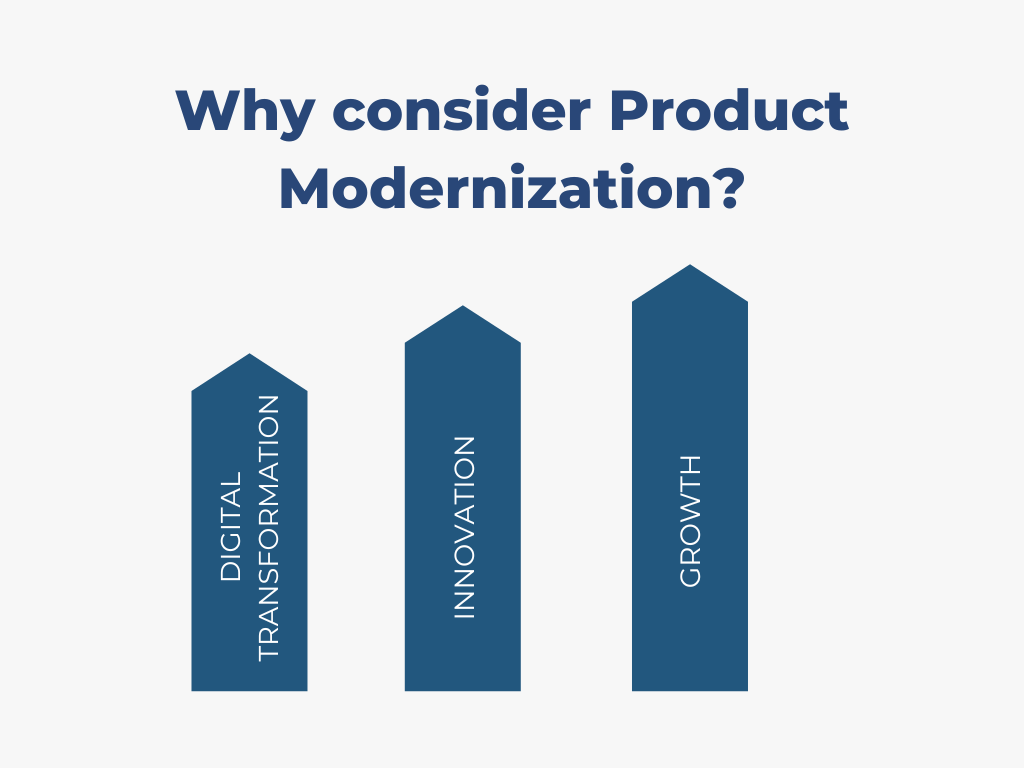 Digital Transformation
Businesses are increasingly going digital to stay competitive. With expert consulting, they can easily remove silos, create a connected ecosystem, leverage modern technologies, and develop more innovations.
Moreover, organizations don't need a complete revamp of systems and infrastructure as modern tools enable them to achieve digitization with minimum disruptions to business. This way, businesses can easily offer services and reduce transformation costs.
Innovation
Software product engineering drives innovations and creates numerous business opportunities for startups, SMEs, and large organizations. With the best services, businesses can strive to achieve strict quality standards and provide the right solution for evolving customer needs.
Product modernization helps businesses evolve with time, adopt the never stop improving approach, and offer the best features. Businesses can easily upgrade digital products to cater to the evolving market changes and help organizations stay proactive.
Growth
Product modernization services help businesses bring the best products, automatically enabling them to harness growth. They can easily engage with more customers willing to invest in quality offerings in the longer run.
When you offer the best quality products, the existing customers spread word of mouth, and the new customers become loyal customers who keep returning with new product demands. You can increase your ROI and cost-cutting to boost your business growth and acquire more market share.
Conclusion 
The demand for product engineering and software development services is growing in all directions. They enable businesses to develop quality products in less time and money, enabling them to spend more time on their core competencies. Also, product development becomes agile, and thus you can make changes as and when required.
Businesses can undoubtedly usher in a new world of prosperity by leveraging digital product engineering services by an experienced company like Bursys. Reach out to us if you are seeking faster software project delivery by extending your team with experts.