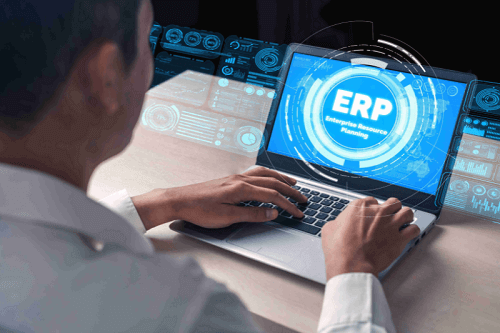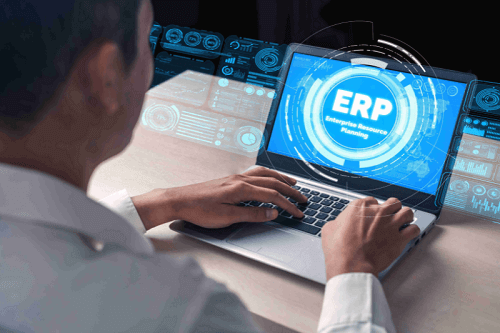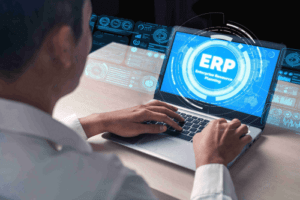 Enterprise Resource Planning makes it possible to synchronize applications and data sources, allowing a company to share data, manage resources, compare financials and plan accordingly. In a nutshell, an ERP system provides a unified view of information pertinent to all departments for more efficient planning and decision making. Business operations across the whole organization will benefit from focused IT costs, improved collaborations, enhanced workflow efficiencies, and flexible modularity with superior scalability. Many enterprises in industries such as retail, wholesale, eCommerce, healthcare, construction, and industrial manufacturing are using ERP systems to better manage their supply chain procurement, resource planning, finance and accounting.
ERP integration connects inter-departmentally with other software applications such as Customer Relations Management software, Accounting software, Supply Chain Procurement software, Human Resource Management software, Business Intelligence software, Marketing Automation and Project Management tools. An ERP system gives everyone access to the information needed to answer important questions about their department's current performance, resource requirements, financial spend and future planning efforts. The benefits can be exponential and an ERP system will offer a positive long term ROI when integrated and utilized effectively. However, the integration and implementation can be quite complex. With the popularity of ERP, companies are struggling to integrate the appropriate ERP system that will satisfy the requirements of their business and work seamlessly across the organization.
To build a foundation that will support ERP system integration and lead to positive ROI, there are a few challenges that a business must overcome along the way. Let's take a look at them.
Challenges in ERP System Integration and Implementation
1. Cost of Implementation and Maintenance
ERP systems can improve the cost of operations with improved flow of data across the organization. However, what people tend to forget is, if the software is not integrated effectively for each interdepartmental function, it can have a negative impact on the respective department and also create a ripple effect that flows throughout the organization. This, in turn, can cost your business a great deal of money. Therefore, you want to ensure there is a strategic implementation plan and scheduled execution of the integrations in place before the final rollout.
All ERP systems require regular maintenance and management to operate efficiently as well. So, even though integrating an ERP system might appear cost effective in the long run, it requires time and money in implementation, process alignment, management and maintenance. If you do not plan your integrations wisely, you might end up paying a large amount of money for a system integration that requires further maintenance than desired. To reduce the risk of going over budget, a company should assess and properly prepare their teams for an ERP integration. Have each functional department's management team and your IT team prepared for integration and aligned to improve your chances of a successful implementation.
2. Finding Flexible Customization Unique to Your Business Operations
Objectives vary from one business to the next. When you are integrating an ERP solution in your organization, it is critical that you ensure the primary objectives are aligned with the overall operational requirements and efficiency goals. Your operational workflows and the areas the company is aiming to improve should be listed with a dollar value placed on improvement results.
It is not always easy to find the right system with modules that connect your operational workflows. To find a flexible customization feature that meets your business requirements, you should choose the right solution and use the right strategy for the integration. Identify the areas that need improvement first. Then, you will want to research the various module capabilities of the competing ERP solutions to find the solution that best fits your needs.
3. ERP Module Capabilities
Some ERP applications, when not integrated correctly, will have negative effects on how well the organization performs as a whole.
This is why identifying what is working and what needs to be improved is a critical first step when identifying the best ERP solution. If employees are trying to work across various business processes or applications that don't work together, it will be counter productive. When a business falls behind due to unexpected processing issues, it can have a domino effect that impacts performance across multiple departments and leads to significant loss of production time. IT resources can become overextended while trying to correct these multiple synchronization issues across the organization.
The best solution will provide both back-office and front-office module functions such as finance, accounting, procurement, inventory management, order management, warehouse management, supply chain management, project management, workforce management, human resource management, eCommerce management, marketing automation, and customer relations management. As you can see from this extensive list, there are a lot of integrations and interaction between the various applications, which is why you must identify which modules are pertinent to your organization's operational workflow and make sure the solution you choose meets those requirements.
4. ERP Complexities
Integration of ERP software with all of the various modules and interdepartmental applications can be complicated and might require special knowledge of the processes, internal IT systems, and the cloud infrastructure required to move data to the cloud during cloud migration. This type of enterprise digital transformation requires specialized skill sets. The expertise required for this project level is not always able to be met through internal resources, which can cause leadership to face resistance from some departments. However, you can always reach outside of the organization for consultation from experts in the field and receive implementation assistance.
In this case, getting stakeholders on-board is the first step that decision-makers need to pursue when a new ERP system integration is going to be implemented. Reach out to the respective departments to lay out an estimated timeline for the integration and be sure that all leaders have the buy-in of their respective departments to reduce resistance and increase success.
Tips for preparing for a successful ERP Integration:
A unifying system of data storage and access in the cloud with integrations that improve efficiencies.
Understand your business
Map the business processes
Identify which processes need improvement
Identify which processes are working efficiently
Define the end result and set your target
Ensure you have a long term plan
Identify the proper protocols
Data access points
Data validation
Data transfer into the central unified system
Identify where data will be communicated across the organization
Make sure that your team is on board and ready to make the change
You can always seek advice from experts at Bursys in this area.